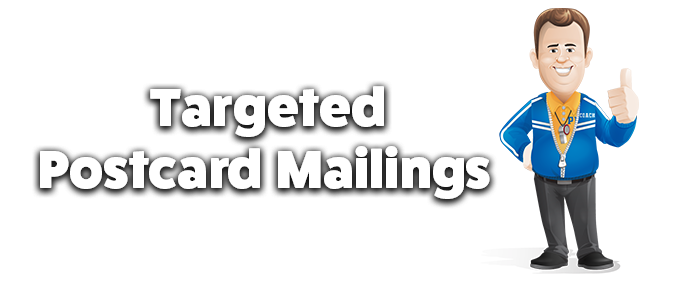 What is the Cost of a
Targeted Postcard Mailing?
The consumer targeted postcard mailing cost and the prices for targeted business to business mailings shown on this page are all inclusive. Prices are based on a customer provided mailing list. There are no hidden fees. All we need to get the ball rolling is a $100 "Good Faith" Deposit. The balance is not due until you are delighted with both design and the certification of your mailing list.
How to Price a Targeted
Postcard Mailing
To determine the cost of a targeted postcard mailing to consumers or businesses, you must include the following items:
Postcard Design
Postcard Printing
Targeted Mailing List
Mailing Service
Postage
Our prices are based on using your mailing list. If you don't have a mailing list, you can purchase one from us.
Prices for

Targeted

Postcard Mailings
Click Sizes Below to Display Pricing
| QUANTITY | FULL SERVICE | PER PIECE |
| --- | --- | --- |
| 1000 | $730 | 0.7300 |
| 2500 | $1566 | 0.6264 |
| 5000 | $2891 | 0.5782 |
| 7500 | $4320 | 0.5759 |
| 10000 | $5743 | 0.5743 |
| 15000 | $8600 | 0.5733 |
| 20000 | $11456 | 0.5728 |
| QUANTITY | FULL SERVICE | PER PIECE |
| --- | --- | --- |
| 1000 | $783 | 0.7830 |
| 2500 | $1675 | 0.6698 |
| 5000 | $3029 | 0.6058 |
| 7500 | $4516 | 0.6021 |
| 10000 | $6004 | 0.6004 |
| 15000 | $8972 | 0.5981 |
| 20000 | $11940 | 0.5970 |
| QUANTITY | FULL SERVICE | PER PIECE |
| --- | --- | --- |
| 1000 | $824 | 0.8240 |
| 2500 | $1772 | 0.7088 |
| 5000 | $3168 | 0.6336 |
| 7500 | $4745 | 0.6327 |
| 10000 | $6286 | 0.6286 |
| 15000 | $9386 | 0.6257 |
| 20000 | $12490 | 0.6245 |
| QUANTITY | FULL SERVICE | PER PIECE |
| --- | --- | --- |
| 1000 | $993 | 0.9930 |
| 2500 | $1880 | 0.7520 |
| 5000 | $3195 | 0.6390 |
| 7500 | $4637 | 0.6183 |
| 10000 | $6113 | 0.6113 |
| 15000 | $9150 | 0.6100 |
| 20000 | $12086 | 0.6043 |
Now Offering Special Payment Options
NO Payments and 0% Interest for 30 Days
Apply and Get an Decision in Seconds - Applying Will not Affect Your Credit Score
To Get a Quote or Ask a Question, Call Us at
866-594-3069 or Fill Out The Form Below