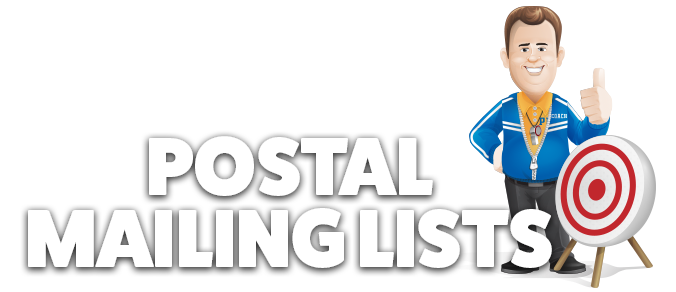 Custom Mailing Lists
We offer three types of Custom Mailing Lists: Neighborhood Saturation, Consumer and Business Mailing Lists. Getting the right mailing list is one of the most important factors that contribute to a successful direct mail advertising campaign. When creating a postal mailing list, the first step is to determine whether or not to reach every prospect in you market area or to use demographics to zero in on the best candidates. Find out more about our mailing lists.
Saturation Mailing Lists –
5¢ Per Address
Target by Mail Carrier Route
A saturation mailing list is perfect when you want to reach all the residents in a neighborhood. We can target residential addresses or businesses. A saturation list does not come with names, just "Current Resident" or "Current Business Owner" along with the postal address.
Choose An Option Below:
Consumer Mailing Lists – Starting at
8¢ Per Address
The more targeted the mailing list the better the results of a direct mail campaign.
One of our Coaches will show you how to use demographics to create the best consumer mailing list.
Choose An Option Below:
Standard 
Use common demographics such as age, income and home value to target consumers within your market area.
Specialty 
Target specific types of people, like absentee owners, pet or pool owners, families with children and more.
Targeted Business Mailing Lists –
15¢ Per Address
If you have a business that sells to or services other businesses, you will need a targeted business mailing list.
One of our Coaches will show you how to create the best-targeted "B2B" mailing list.
Choose an Option Below:
Standard 
Target all businesses in a general area and get the top contact, business name, business address & phone number.
By Industry
Target a specific industry using SIC Codes. Top contact, business name, business address & phone number included.
Mailing List Counts Computed by a "Coach" NOT a Calculator
"One Size Fits All"

may be okay when buying certain types of clothing – but, when it comes to creating a mailing list, you need a

"Custom Fit"

.
We don't have a "Do It Yourself" Calculator in our Postal Mailing Lists Section because we are not limited to one mailing list source. Our experienced Direct Mail Coaches will help you define your perfect prospect and then shop for the compiler offering best match and pricing. Consultations by our Coaches are FREE and without obligation.
Have Questions About Mailing Lists?
Chat or Talk to a Coach 866-594-3069
Monday – Friday 9:00 am – 7:00pm Eastern