UPDATED AND VERIFIED
Occupation Codes are used to identify the general job function that the first individual in the household holds. Data is applied at the household level and is sourced from multiple self-reported sources, state professional license files, and membership rosters from professional affiliations.
DELIVERABILITY
Mailing lists are never perfect due to address and data changes that occur between updates. Industry standards allow for up to 10% error factor on this type of mailing list.
FULL SERVICE MAILING AVAILABLE
We are a "One Stop Shop" for Direct Mail Advertising offering:
Custom Design
Full Color Printing
Mailing Service
Lowest Postage Rates
Click Here for Pricing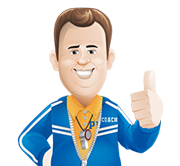 MAILING LIST COUNTS COMPUTED BY A "COACH" NOT A CALCULATOR
One size fits all may be okay when buying certain types of clothing – but, when it comes to creating a mailing list, you need a "custom fit". We are not limited to one mailing list source. Our experienced Direct Mail Coaches will help you define the perfect prospect and then shop for the best results and pricing.