UPDATED AND VERIFIED
This file is a comprehensive, real property list sourced from the county recorder and assessor records designed to help you target prospects that own real estate. It is updated on a monthly basis and comprised of more than 45 million U.S. households.
DELIVERABILITY
Mailing lists are never perfect due to address and data changes that occur between updates. Industry standards allow for an 8 to 12% error factor.
FULL SERVICE MAILING AVAILABLE
We are a "One Stop Shop" for Direct Mail Advertising offering:
Custom Design
Full Color Printing
Mailing Service
Lowest Postage Rates
Click Here for Pricing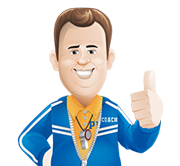 MAILING LIST COUNTS COMPUTED BY A "COACH" NOT A CALCULATOR
One size fits all may be okay when buying certain types of clothing – but, when it comes to creating a mailing list, you need a "custom fit". We are not limited to one mailing list source. Our experienced Direct Mail Coaches will help you define the perfect prospect and then shop for the best results and pricing.