Special Interest Mailing List
Special Interest Mailing List –
12¢ Per Contact
Use Leisure Activity mailing lists to target consumers in your market area by their hobbies. We can help build an effective
hobby mailing list using your specific criteria.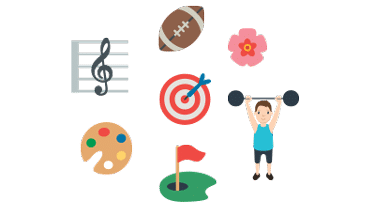 How to Create a
Special Interest Mailing List
Use leisure time activities, hobbies and interests to identify the best prospects for your product or service. For example, if you own a health club you can reach out to folks who have shown an interest in exercise and fitness. A fancy French restaurant can target gourmet food lovers. Social Media activity, online shopping and browsing history combined with traditional data sets can be used to profile consumers better than ever before.
List Includes up to 2 Special Interest Selections
Each additional interest is 4¢ per selection
Fill Out The Form to Get a FREE List Count
or Call for Immediate Assistance
866-594-3069
Monday – Friday 9:00 am – 7:00 pm Eastern

| Quantity | Price |
| --- | --- |
| 1,000-4,999 | .12¢ |
| 5,000-9,999 | .11¢ |
| 10,000-14,999 | .115¢ |
| 15,000-19,999 | .10¢ |
| 20,000+ | Talk to a Coach |

CHOICE OF FORMAT
The Interest Mailing List is delivered by E-Mail in a choice of the following formats:
CSV
EXCEL
Avery 5160 Label PDF
SAME DAY LIST DELIVERY
Your Special Interest List is delivered the same for orders received by 3:00 PM Eastern Time.
Orders received after 3:00 PM
are sent the next business day.
Special Interest Choices
If more than one Interest is used then "LOGIC" must be applied as follows:
"OR" will include individuals with ANY of the interests selected (will increase the count)
"AND" requires that each individual meet ALL interests selected (will lower the count)
Art
Beauty and Cosmetics
Biking / Mountain Biking
Boating / Sailing
Camping / Hiking
Collectibles – Antiques
Collectibles – Arts
Collectibles – Coins
Collectibles – General
Collectibles – Sports Memorabillia
Collectibles – Stamps
Computers
Consumer Electronics
Cooking – General
Cooking – Gourmet
Cooking – Low Fat
Collectibles – General
Communities / Charities
Crafts
Current Affairs / Politics
Dieting / Weight Loss
D I Y Projects
Education Online
Environmental Issues
Equestrian
Exercise – Aerobic
Dieting / Weight Loss
D I Y Projects
Education Online
Environmental Issues
Equestrian
Exercise – Aerobic
Exercise – Running – Jogging
Exercise – Walking
Exercise – Fitness
Fashion
Fishing
Food – Vegetarian
Foods – Natural
Games – Board Games / Puzzels
Games – Computer
Gardening
Golf
Health / Medical
History / Military
Home Furnishings / Decorating
Home Improvement
House Plants
Hunting
Investing / Finance
Investments / Real Estate
Investments / Stock and Bonds
Motorcyles
Movies
Music
NASCAR
Photography
Reading
Religion
RV
Science / Space
Scuba
Self Improvement
Sewing
Snow Skiiing
Spectator Sports – Auto Racing
Spectator Sports – Baseball
Spectator Sports – Basketball
Spectator Sports – Football
Spectator Sports – Hockey
Spectator Sports – Soccer
Spectator Sports – Tennis
Tennis
Theater / Performing Arts
Travel – Cruise
Travel – Domestic
Travel – Family Vacations
Travel – International
Water Sports
Woodworking
Need Peel &  Stick Labels?

4¢ Per Address
We can print the addresses on peel & stick labels for an additiona 4¢ per contact.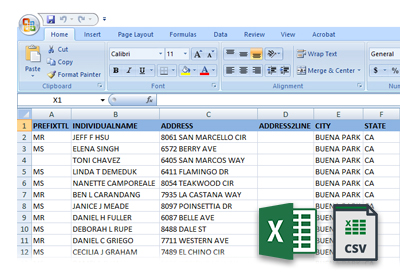 Interest Mailing List Sample in Excel or CSV Format
Your mailing list can be delivered electronically in Excel or CSV format. To see a Special Interest Mailing List Sample in this format click the blue button below:
Need Postcards Too? We Got You Covered!
Choose one of the options below for either postcard printing to mail yourself, or our full service "all inclusive" mailing option.
Postcard Printing

$138 for 1000 Postcards
Full Service Postcard Mailings

All Inclusive Pricing