Absentee Owner Mailing List
Non-Owner Occupied List –

12¢ Per Contact
Our Absentee Owner Mailing List is a great source of leads for Property Management Companies and Realtors. Includes both property location and owner addresses. Target local owners or nationwide owners of investment property and rental property.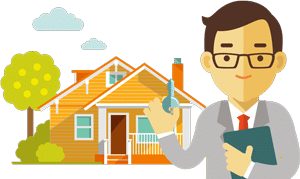 How to Create an
Absentee Owner Mailing List
When creating an absentee property owner mailing list you will need to target two addresses: the "Site Address" where the properties are located and the "Owner Address" which can be local or nationwide.
When creating the absentee homeowner mailing list the property type can also be specified: Single-Family Home, Condo, Multi Family Home, or Mobile Home. In addition current market value can be specified.
Fill Out The Form to Get a FREE Non-Owner Occupied List Count
or Call for Immediate Assistance
866-594-3069 
Monday – Friday 9:00 am – 7:00 pm Eastern

| Quantity | Price |
| --- | --- |
| 1,000-4,999 | .12¢ |
| 5,000-9,999 | .11¢ |
| 10,000-14,999 | .10¢ |
| 15,000-19,999 | .09¢ |
| 20,000+ | Talk to a Coach |

CHOICE OF FORMAT
The Absentee Owner Mailing List is delivered by E-Mail in a choice of the following formats:
SAME DAY LIST DELIVERY
Your Non-Owner Occupied List is delivered the same for orders received by 3:00 PM Eastern Time.
Orders received after 3:00 PM
are sent the next business day.
Direct Mail Strategy for an Absentee Property Owner Mailing List
A few things to consider…
When planning a direct mail campaign, Reach and Frequency should always be part of the strategy. In other words, how many postcards to mail and how often? For the same budget, it may be better to target a few prospects "Reach" and mail them more than once "Frequency".
The great thing about Direct Mail is that your message always gets to your prospect because everyone gets their mail, every day. However, folks sort through their mail in a matter of seconds, we call that "The Glance Test" and whether or not you pass it will determine the success of your campaign. So, make sure you postcard is designed for maximum effectiveness. Check out our 4 Point Design Strategy in our sample section.
Demographics Can Enhance Your Absentee Owner Mailing List
Use demographics to fine-tune your mailing list:
Property Type: Single-Family, Condo, Multi Family or Mobile Home

Current Market Value

Age of Owner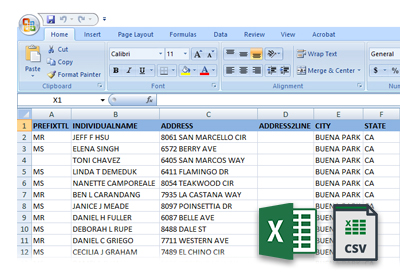 Absentee Owner Mailing List Sample in Excel or CSV Format
Your mailing list can be delivered electronically in Excel or CSV format. To see an Absentee Homeowner Mailing List Sample in this format click the blue button below:
Need Postcards Too? We Got You Covered!
Choose one of the options below for either postcard printing to mail yourself, or our full service "all inclusive" mailing option.
Postcard Printing

$138 for 1000 Postcards
Full Service Postcard Mailings

All Inclusive Pricing