Neighborhood Saturation Mailing List

Target Entire Neighborhoods with a  Carrier Route Mailing List –

5¢ Per Address
Everyone knows what a Zip Code is but did you know that Zip Codes are made up of individual Mail Carrier Routes? A mail carrier route represents the daily deliveries of a mail person. Routes average about 300 to 500 residential deliveries. A mailing using a neighborhood saturation mailing list qualifies for one of the lowest postal rates. One of our Direct Mail Coaches can answer questions and help with the creation of a neighborhood mailing list.
How to Create a Neighborhood Saturation Mailing List
When creating a residential mailing list provide us with one address within the neighborhood you want to target. We can determine the mail carrier route number for that address and give you the delivery count broken down by single-family homes, apartments and trailers. Another method is to request a map of an entire zip code showing the mail carrier route boundaries.

Our carrier route mailing lists are sourced from the United States Postal Service and are up to date.
Names are not provided with this type of mailing list, the addressee is "CURRENT RESIDENT".

Fill Out The Form to Get a FREE Residential Saturation Mailing List Count
or Call for Immediate Assistance
866-594-3069 
Monday – Friday 9:00 am – 7:00 pm Eastern
Neighborhood Saturation Mailing List Using Carrier Routes
Price: 

5

¢ per Address

 – $50 minimum order
Target residential addresses in a defined area. Businesses can also be included.

| Quantity | Price |
| --- | --- |
| 1,000-4,999 | .05¢ |
| 5,000-9,999 | .04¢ |
| 10,000-14,999 | .035¢ |
| 15,000-19,999 | .03¢ |
| 20,000+ | Talk to a Coach |

CHOICE OF FORMAT
A Saturation Mailing List is delivered by E-Mail in a choice of the following formats:
SAME DAY LIST DELIVERY
The Saturation Mailing List is delivered the same day for orders received by 3:00 PM Eastern Time.
Orders received after 3:00 PM
are sent the next business day.
What is a Carrier Route?
Zip Codes are broken down into mail carrier routes. A carrier route refers to the daily deliveries of a mail carrier. A route includes all the residential and commercial deliveries within the boundaries of the route. The average carrier route has 300 to 600 daily deliveries.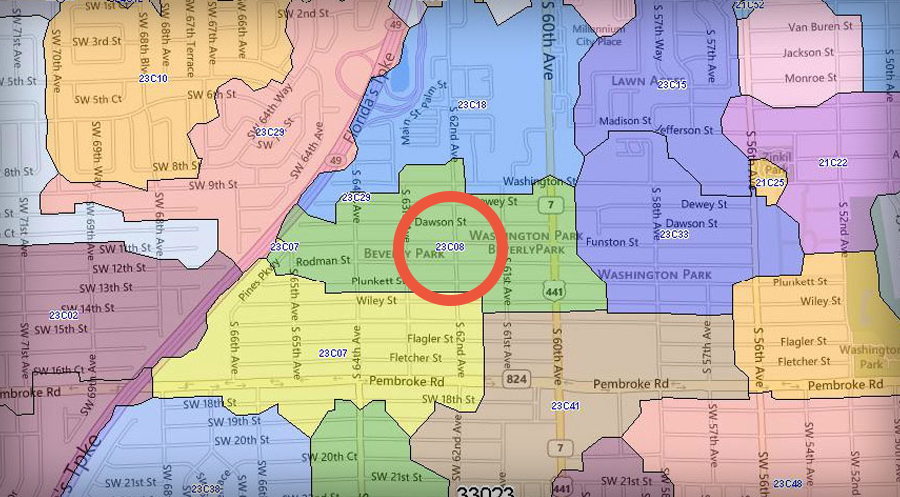 Carrier Route Map 
The mail carrier route map shown here illustrates how carrier routes are defined. Streets are clearly shown making it easy to target specific neighborhoods. A mailing using a mail carrier route list can be mailed at the lowest standard postage rate.
"Current Resident" Plus Address
When you receive the list, it will include the address and title "Current Resident." A Saturation Mailing List does not include names. If you'd like a mailing list with names included, the price is 8¢ per contact. CLICK HERE to learn about our consumer mailing lists with names and other deographics to choose from.
Property Types
The mailing list is broken down by single family home, apartment, P.O. boxes, trailers and businesses.
You can choose one specific type or all. 
Demographics based on Neighborhood Averages
Individual demographic information is not available with a carrier route mailing list, however average demographic information such as home values, income, and age is provided.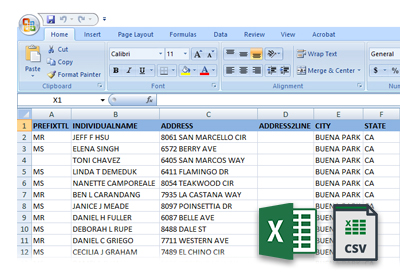 Saturation List Sample in Excel or CSV Format
Your mailing list can be delivered electronically in Excel or CSV format. To see a Residential Mailing List Sample in this format click the blue button below:
Need Postcards Too? We Got You Covered!
Choose one of the options below for either postcard printing to mail yourself, or our full service "all inclusive" mailing option.
Postcard Printing

$138 for 1000 Postcards
Full Service Postcard Mailings

All Inclusive Pricing