Postcard Marketing for Mortgage
Postcard marketing for mortgage brokers can generate deals for new mortgages and refinancing. Use the ideas on this page and add any special programs that may be available now. The postcard should be designed to generate a lead. Tantalize the recipient with benefits. Make sure the content of the postcard is written in "plain English".
Here are a few things to consider when planning a postcard mailing for your Mortgage Loan Brokerage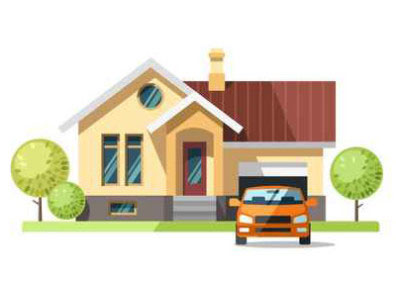 Highlight One Main Loan Type
While it may be a good idea to include a "laundry list" of all your loan types and services, don't make that the highlight of your ad. That type of ad is better suited for a directory, like the yellow pages. When people go the the yellow pages, or some other directory, they have already decided to investigate a new home loan. Direct marketing presents more of a challenge. We are trying to get the attention of a prospect who is probably not thinking about a home loan as he goes to his mail box. Our goal is to make the prospect excited about our loan offer. Pick your most popular and best loan offer and promote it in a tantalizing way. Remember, all we are trying to do is generate a lead.
I'm Afraid To Look At My Credit Score!
The first step in applying for a loan is checking the applicants credit score. People usually hate this part. Scores are never as high as anticipated. Take the sting out of that process by offering a FREE Credit Score and Analysis. You might include copy like this: "We'll work with you regardless of your credit score. We'll even show you how to improve your score as fast as possible." You can even charge an upfront fee for the service to be refunded at closing and still call it free.Do You Represent More Than One Loan Institution? Then make sure prospects know you have a number of companies to place their mortgage with. Use the phrase:"We Shop And You SAVE!"
It's All About You
When you are advertising your services, it is not the time to be modest. Securing a mortgage is a one on one, personal service. Include your photo and a brief resume on your postcard. You may be surprised how many people recognize you, especially if you mail to homes in your own neighborhood. Humanize your image by including memberships in community organizations or church groups.
Offer The Right Loan Product To The Right Prospects
Using the right mailing list can help you achieve a higher response rate and save money in the process. You can target neighborhoods that are nearby your office and also filter by average home value. How about targeting renters as first time home buyers. Get of list of folks with 2nd mortgages and offer a consolidation at a lower rate. Use loan to value ratios to create lists of homeowners with lots of equity or no equity at all.
Let The Prospect Pre-Qualify Themselves
If you have a loan offering with specific requirements try listing them on the postcard. Income, Credit Score, Length of Employment, etc. – Use this headline: "Pre-Qualify Yourself For A New Loan – If You Meet This Criteria, Call Today And Let's Get Started!".
Benefits Not Details
Use your postcard to highlight the benefits of a particular loan not the details. Save Money, Get Cash Out, Lower Your Payment, etc. The purpose of the postcard is to generate a lead, not make the sale. Keep it brief and as tantalizing as possible.
Don't Keep Changing the Appearance of your Postcard
Modify pricing and message if you must, but try to keep the appearance of your postcard basically the same. You want prospects to recognize it and associate it with your brand.