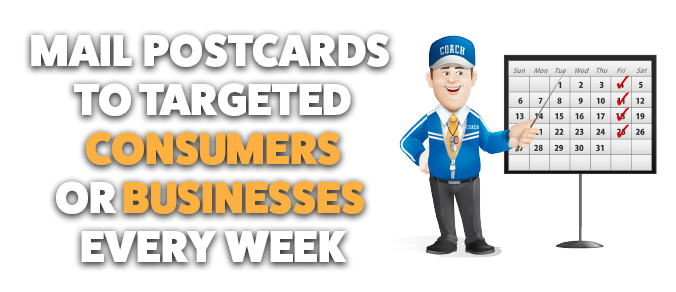 Weekly Postcard Mailings
Using a Targeted List
Target Specific Consumers or Businesses in an Area with a "Drip Campaign" and Pay Weekly, As You Mail
Use The Calculator

to Experiment with:
Postcard Size, Number of Weeks, Number of Postcards Per Week
Use Your Mailing List
or

Purchase a Targeted List from Us

Unlike Saturation Mailings, Targeted Mailings are sent to clients or prospects that meet a specific demographic criteria.
We can use a list that you provide or you can purchase a targeted list from us.

Mailing List Purchase if needed NOT Included in the calculator pricing.
Need a
 

Targeted Consumer List

for your Drip Mailings?

We sell targeted Consumer Mailing Lists from the best compilers at very affordable prices. Learn more about targeted consumer lists by watching the video on the right. When you are, one of our coaches can help you determine the best selection criteria.
Need a
 

Targeted Business List

for your Drip Mailings?

If your business sells to other businesses you will need an up to date B2B mailing list. Our primary business mailing list compiler is Dun & Bradstreet and leader in data management for over 150 years. Our business mailing lists include the Top Contact Name and Phone number which can be used for telemarketing. Our coaches can answer questions and assist you in creating the best B2B list for your Drip Campaign. 
Ready to Get Started or Have Questions?
Call Us at 866-594-3069