DESIGN, PRINTING & DIRECT MAIL FOR
RESTAURANTS & BARS
Restaurants in Florida Are Re-Opening in Phases
Let us be your source for the required items you'll need to get business up and running again.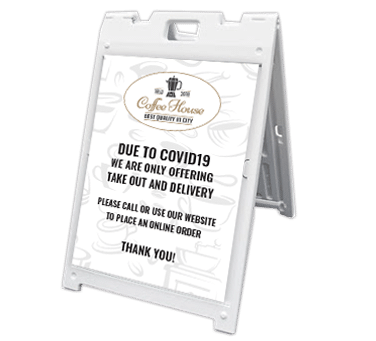 Sidewalk Signs
As restrictions are changing day to day a sidewalk sign is perfect to keep your customers in the loop with new procedures.
Your first order comes with the stand and signs, separate signs can be purchased and changed out when needed. These signs are 23″x46″
Get 1 Stand with Signs for $199
Separate Set of Signs $80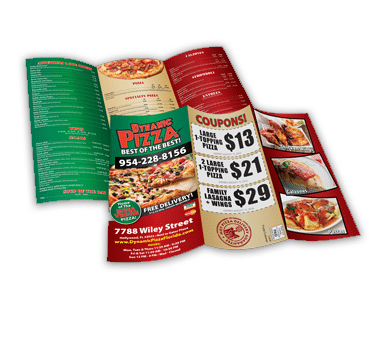 Single Use Menus
If you have a restaurant, you may need to create a menu that can be disposable. Our 8.5 x 11  tri-fold menus are printed on 100# glossy paper and can given to customers to keep & toss when they're done.
1000 Two Sided for $298
1000 One Sided for $198
Folding is optional
QR Code Cards
This product is essentially a business card with a twist. Use a small card to point people to your website or menu with a QR code. This can take the place of a printed menu or be avalueable leave behind for clients. 
Get 1000 for $45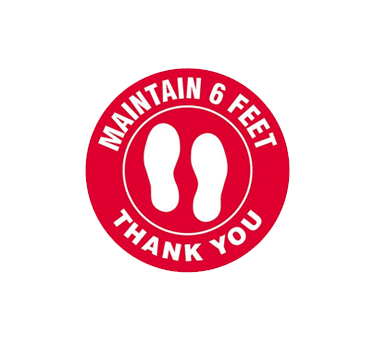 Vinyl Floor Adhesives

These removable vinyl floor graphics are perfect for keeping within social distancing at checkout and more. 12″ Circles.
Get 10 for $65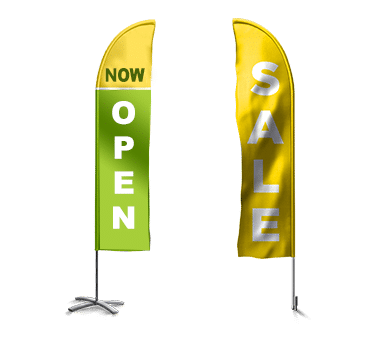 Feather Flags
Place a feather flag near the road so passing traffic can know thar you're "Open for Business!" Available for either in ground or displayed indoors with a customized message.
$159 per Flag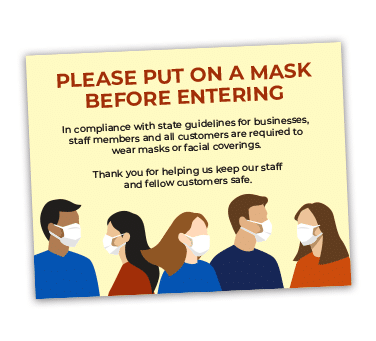 Posters
Does your store require specific instructions for staff or incoming customers? Hang a poster in your window to let people know what procedures you have put into place. Sizes starting at 12″x12″ Other sizes available by request.
Get 5 for $50