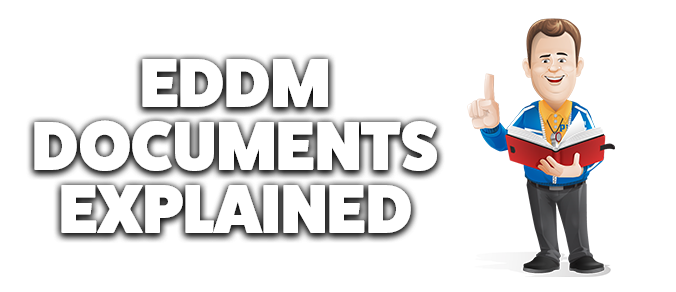 Every Door Direct Mail Documents
Understanding the EDDM Paperwork
On this page of our website you will find the 4 Post Office forms used in connection with Every Door Direct Mail.
Our Full Service EDDM prices include all mailing and document preparation. Postcards arrive "Mail Ready".
Click on form to display a larger image.
Post Office Location and Drop Information
This form is for information only and is not submitted at the post office when mailing your postcards.
The form provides the following information
Post Office Address
Post Office Phone and Fax Number
Hours of Operation
List of Zip Codes and Carrier Routes being mailed
Total number of postcards to be mailed
Postage amount to be paid
PS Form 3587 Every Door Direct Mail (EDDM) Retail
Page 1 of 2
This form must be submitted to the post office along with the number of postcards indicated and postage payment.
If you are mailing to more than one zip code, you will need to process your mailing at the post office that handle each zip code. A PS Form 3587 will be required for each post office and mailing.
The maximum number of postcards that can be mailed per day at each post office is 5000
Every Door Direct Mail – Retail – Facing Slip
Postcards must be bundled and have 2 rubber bands. Each mail carrier route will have a specific number of bundles. Each bundle will need an official Facing Slip indicating the number of postcards per bundle and how many bundle are included for each route.