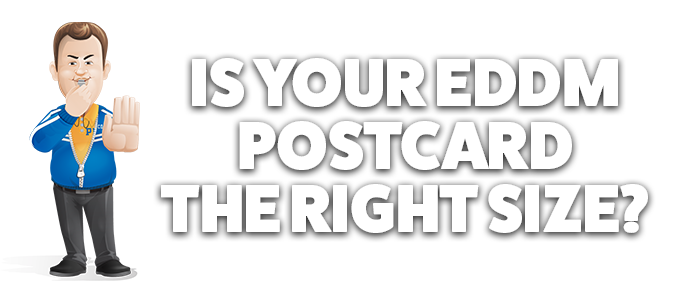 Every Door Direct Mail Size Requirements
Did You Know That Your Postcard Must be a Certain Size to Qualify for the Every Door Direct Mail EDDM Program with USPS?
There seems to be a lot of confusion regarding EDDM Size Requirements for postcards. We offer 4 different postcard sizes for our EDDM Program:
8.5″ x 7″ | 6″ x 11″ | 8.5″ x 11″| 11″ x 17″
All four meet the size requirements outlined by the United States Post Office. If you already have postcards printed and wonder if they will be accepted, watch the brief video above for a plain English explanation of the rules. You must meet either a minimum height or length requirement. Length must be greater than 10 1/2″ or the height must be greater than 6 1/8″.
We offer a complete Every Door Direct Mail Package that includes custom design, printing, neighborhood targeting and post office preparation. We ship the EDDM postcards to you for drop off at your local post office. Postage is paid as you mail. The current postage rate for EDDM is 19.1 cents per piece.
If you want to combine the value of EDDM with the convenience of a  a hassle free process – talk to us. Watch our Drop Off Instruction Videos and you will see that your order will arrive "Mail Ready". You don't even need to unpack the boxes. Simply take them along with the provided paperwork to the post office indicated in the instructions. Drop them off, pay the postage and your postcard will normally be delivered the very next business day.
Questions? Call Us at 866-594-3069