EDDM Postcard – 
Shipped to You – Mail Ready


Shipping & Post Office Drop Off Instructions

Watch these 3 brief videos. They will describe what to do after your Every Door Direct Mail order ships to you.
When your shipment arrives, it will be "Mail Ready".
However, a bit of advance planning will make your job a lot easier.
PLEASE WATCH THESE VIDEOS BEFORE YOUR ORDER ARRIVES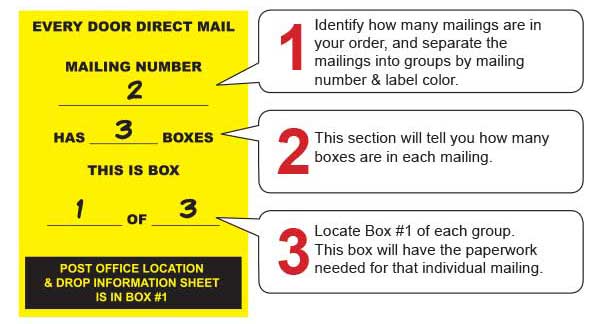 The required paperwork is in Box Number 1
Each zip code has it's own set of paperwork. There is a box number 1 for each zip code.
Learn what paperwork must be submitted at the post office.  The instructions are straight forward,  but, if you have questions, call us before you get to the post office. We are here to help.